Craving Carbs? — Delicious Coconut Maple Walnut Granola
Some days you just want those carbs.  Not sure when eating carbs became so taboo … but if I see one more low-carb article, I may just scream.  Aaaaaaarghhh!  Sorry.
There's nothing wrong with eating grains and carbs if you do it as part of a balanced and healthy eating plan.  Choose  wholesome grains like rolled oats (not instant).  When you combine carbs with proteins and good fats, you have a meal that satisfies your carb cravings and fuels and nourishes your body.
Our absolutely favorite granola recipe comes courtesy of Sam at Ahead of Thyme.  This Coconut Maple Walnut Granola recipe is sure to become a favorite in your house too.   We like to add raisins and dried cranberries after it is baked and cooled, but the granola is perfectly sweet, delicious and satisfying without anything extra.  Just add milk or whatever you like to use instead of milk  (we like Almond/Coconut milk) and enjoy!   It's so good, you'll probably want to make a double batch.  ** Makes a tasty snack too!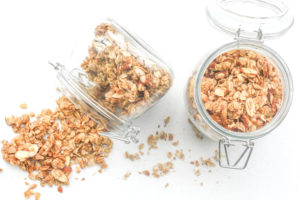 Coconut Maple Walnut Granola
Total time   
Yields:  3 – 3-1/2 cups
Ingredients:
2 cups large flake oats (or rolled oats)
½ cup chopped walnuts
½ cup sliced almonds
¼ cup chopped pecans
½ cup pure maple syrup
¼ cup melted coconut oil
½ tbsp. vanilla extract
1 tsp ground cinnamon
Preheat oven to 300 F.
In a large bowl, combine the oats, walnuts, almonds and pecans and stir to combine.
In a medium bowl, mix together the maple syrup, coconut oil, vanilla and cinnamon. Stir well to combine.
Pour this mixture to your large bowl or dry ingredients. Using a wooden spoon, stir well to combine.
Line a cooking tray with aluminum foil or parchment paper and spread the granola mixture evenly.
Bake for 30 minutes. Every 10 minutes, take the tray out of the oven and give it a good stir.  Re-spread the granola and put back in the oven.
Once done, remove the granola from the oven and let cool completely.
To see more on this recipe, and to discover more delicious ideas, please visit Sam's Blog:  http://www.aheadofthyme.com/2016/04/coconut-maple-walnut-granola/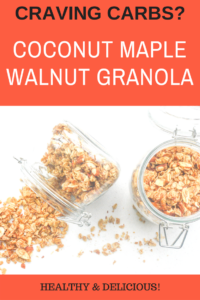 Products from Amazon.com
‹
›