Breakfast bars are available everywhere, but those treats you find in your grocery store are often not much healthier than a candy bar.  Pre-packaged bars are often chock full of hidden sugars, preservatives and unhealthy carbs.  You can do better than that to start your day!
In this video Susan Jane White shares her Jamie Oliver inspired recipe for Healthy Breakfast bars.  This recipe is full of natural and healthy ingredients like dates, oats, protein-rich nuts and seeds.  Containing healthy fat from coconut oil, and sweetened with only the natural sugars found in the the dates, these bars are a delicious treat your whole family will love.  What a convenient and healthy way to start your day!  Why not make a double batch?  You know you'll go through these yummy, and satisfying breakfast bars fast.
Megawatt Breakfast Bars (makes 20-24)
140 ml melted extra virgin coconut oil
80 ml good quality honey (or maple syrup for vegans)
2 handfuls of regular pitted dates (100g)
1 banana, mashed
1-2 teaspoons cinnamon
Freshly grated nutmeg, a pinch
Generous pinch of sea salt flakes
200 g oats (use certified gluten-free oats for coeliacs)
100 g walnuts, roughly broken
100 g ground almonds
Handful of sunflower seeds
For full recipe and directions, please visit Susan Jane White at:  http://susanjanewhite.com/healthy-breakfast-bars-me-on-jamie-oliver/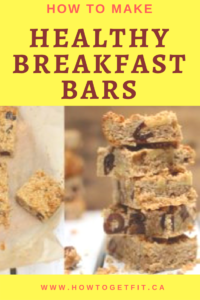 ** Improving your diet and fitness has so many health benefits, but not everyone is healthy enough to begin a fitness or diet program without a doctor's supervision.  Please be responsible when making choices about your health.  Ask your doctor if you are unsure. **
Click here:  www.NutritionWeCanTrust.com  to find out more about the highest-quality supplements from one of Dr. Oz's Trusted Health Partners.