It's not a mystery that the people of the tiny island of Ikaria, off the coast of Greece in the Mediterranean, are very long-lived.  The cuisine and recipes that have evolved from the beautiful ingredients available on their island are healthy, balanced and natural … and also very delicious.
Here is a great recipe from the Blue Zones region, Ikaria, for a rainy day (or any day).  It's also perfect for anyone following a Vegetarian or Mediterranean diet.  Enjoy!
½ cup extra virgin olive oil
1 large red onion, finely chopped
4 garlic cloves, finely chopped
1 fennel bulb, finely diced
1 cup (8 ounces) canned black eyed peas  ** (with dried peas, bring to a boil, boil for 1 minute, remove from heat, cover and let sit for an hour. Drain, rinse, and use.)
1 large, firm ripe tomato, finely chopped
2 tsp tomato paste, diluted in ¼ cup water
2 bay leaves
salt to taste
1 bunch dill, finely chopped.
See more at: https://www.bluezones.com/recipe/ikarian-longevity-stew-with-black-eyed-peas-recipe/#sthash.hMiqXvEE.dpuf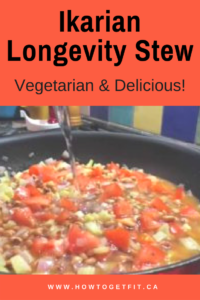 ** Improving your diet and fitness has so many health benefits, but not everyone is healthy enough to begin a fitness or diet program without a doctor's supervision.  Please be responsible when making choices about your health.  Ask your doctor if you are unsure. **
Click here:  www.NutritionWeCanTrust.com  to find out more about the highest-quality supplements from one of Dr. Oz's Trusted Health Partners.