Ikarian Longevity Stew – Vegetarian & Delicious!
It's not a mystery that the people of the tiny island of Ikaria, off the coast of Greece in the Mediterranean, are very long-lived.  The cuisine and recipes that have evolved from the beautiful ingredients available on their island are healthy, balanced and natural … and also very delicious.
Here is a great recipe from the Blue Zones region, Ikaria, for a rainy day (or any day).  It's also perfect for anyone following a Vegetarian or Mediterranean diet.  Enjoy!
½ cup extra virgin olive oil
1 large red onion, finely chopped
4 garlic cloves, finely chopped
1 fennel bulb, finely diced
1 cup (8 ounces) canned black eyed peas  ** (with dried peas, bring to a boil, boil for 1 minute, remove from heat, cover and let sit for an hour. Drain, rinse, and use.)
1 large, firm ripe tomato, finely chopped
2 tsp tomato paste, diluted in ¼ cup water
2 bay leaves
salt to taste
1 bunch dill, finely chopped.
See more at: https://www.bluezones.com/recipe/ikarian-longevity-stew-with-black-eyed-peas-recipe/#sthash.hMiqXvEE.dpuf
Products from Amazon.com
‹
›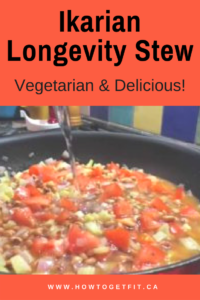 Weight Loss Coaching Resources:
Everybody says losing weight is hard.
Everybody knows it takes time.
Some people, keeping an open mind, have discovered how to lose up to 10 pounds in their very first week!
One of the best ways to lose weight is to be more aggressive from Day 1. It's not particularly motivating when you step on the scales to see that you've lost 1 pound, or even half a pound.
By using a program which is more focused on fast fat loss, you'll be is extremely motivated and it really gets you in the right frame of mind to work hard and continue to get results.
The creator of  the best diet program in 2018 is taking on 5 people now who want to lose a lot of weight.
It uses a powerful variety of different dieting techniques and has helped numerous women drop 2-3 dress sizes in 14 days. And it's budget friendly!  The best weight loss system of 2018 costs less than the price of one personal training session!
Check out these student transformations below. There are tons more!
Let Me Ask You 2 Questions….
Are you serious about losing weight?
Are you ready to try something

new

?
If yes…then CLICK HERE  <====