A classic appetizer or starter, shrimp cocktail is enjoyed the world over.  Chef Rick Bayless shares with us his Mexican-style shrimp cocktail recipe.  Using fresh ingredients, Rick has put together a delicious recipe that combines Mexican flavors (you can make yours spicy or not), using cilantro and a little hot sauce, and adding a little textural contrast with crunchy jicama or cucumber, and delicious and nutritious avocado.  What an inspired combination of ingredients!
Healthy, and delicious, you're sure to add this shrimp cocktail to your repertoire of favorite (and diet-friendly) recipes.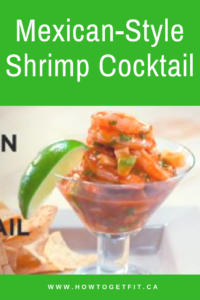 ** Improving your diet and fitness has so many health benefits, but not everyone is healthy enough to begin a fitness or diet program without a doctor's supervision.  Please be responsible when making choices about your health.  Ask your doctor if you are unsure. **
Click here:  www.NutritionWeCanTrust.com  to find out more about the highest-quality supplements from one of Dr. Oz's Trusted Health Partners.