If you're looking for another Paleo lunch recipe, then this one's a real winner!
Paleo Chicken Lettuce Wraps are simple to make, delicious, and can easily be prepared ahead of time and warmed up and assembled when it's time to eat.  The savoury, seasoned chicken and veggies are a tasty contrast to the crisp, cool lettuce.  Delicious, nutritious, convenient … wait no longer to make these delicious wraps!
Ingredients:
3 large Chicken Thighs – skinned and deboned  (finely chopped 1/2 to 1 inch pieces)
Head of iceberg lettuce – washed – leaves whole for serving
1 carrot – grated
1 cup broccoli (finely chopped)
1 tbsp Ginger root (fresh) – peeled and grated
2 cloves garlic – peeled and grated
1 tbsp Coconut Oil
1 tbsp Almond butter
Chili Garlic Sauce or Pepper flakes (*See video)
Coconut Aminos
Sesame Oil
Kosher or sea salt
3 Scallions  (green spring onions) – finely chopped for garnish
** Watch the video below for cooking instructions and helpful tips.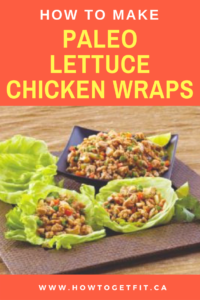 ** Improving your diet and fitness has so many health benefits, but not everyone is healthy enough to begin a fitness or diet program without a doctor's supervision.  Please be responsible when making choices about your health.  Ask your doctor if you are unsure. **
Click here:  www.NutritionWeCanTrust.com  to find out more about the highest-quality supplements from one of Dr. Oz's Trusted Health Partners.