6 Pack abs in 20 minutes?  Impossible you say?  Not if you know how!
This advanced 20 minute ab workout will tone you abs and strengthen your core.  Lower abdominal fat has a correlation to lower risk of heart disease also, so you will look good and feel great.
Pair doing this challenging and effective 20 minute workout 3 times a week on alternating days with a healthy whole foods diet, and you are sure to see some amazing results in just a few weeks.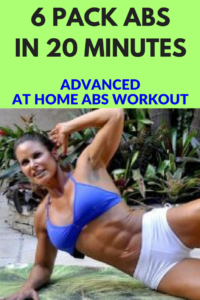 ** Fitness has so many health benefits, but not everyone is healthy enough to begin a fitness or diet program without a doctor's supervision.  Please be responsible when making choices about your health. **
FIND UNIQUE GIFTS FOR FITNESS ENTHUSIASTS AND ATHLETES