Beginner Yoga Stretches for Back Pain Relief  — if you're someone with back pain, these words will get your attention.  Look no further for a relaxing, stress-reducing routine to help ease your pain in the comfort of your own home.
Yoga instructor Jen Hilman will guide you through the proper way to do a variety of stretches for your back.  With these exercises you will increase your flexibility, while getting some back pain relief at the same time.  Along with easing back pain, you will also learn to ease tense shoulders and improve your posture after long periods of sitting.  This comprehensive stretch routine will become one of your favorites!
Join Jen in this stretch routine, and start feeling better today.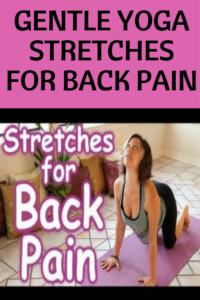 ** Fitness has so many health benefits, but not everyone is healthy enough to begin a fitness or diet program without a doctor's supervision.  Please be responsible when making choices about your health. **
FIND UNIQUE GIFTS FOR FITNESS ENTHUSIASTS AND ATHLETES